Staff
Executive
Adam Van de Water, Executive Director
On December 9, 2021, the TJPA Board of Directors unanimously appointed Adam Van de Water as Executive Director. Mr. Van de Water returns to San Francisco after three years as Director of Innovation and Economic Development at the City of Livermore.
Prior to joining the City of Livermore, Mr. Van de Water spent 17 years at the City and County of San Francisco where he led entitlement negotiations for many of the largest public-private partnerships surrounding the Salesforce Transit Center, including the over $1 billion Golden State Warriors new home at Chase Center in Mission Bay; an approximately $500 million expansion to Moscone Convention Center; the 34th America's Cup; and elements of the 27-acre Mission Rock development at Seawall Lot 337 and Pier 48 with the Port of San Francisco and the San Francisco Giants. He also brings infrastructure financing, long-range capital planning, and legislative experience as the former Deputy Director of the Capital Planning Program and a former Legislative Analyst for the Board of Supervisors.
Mr. Van de Water holds bachelor's degrees in economics and environmental studies from Bowdoin College; a Master's in Public Policy from the Goldman School of Public Policy at UC Berkeley; and is on the Board of the International Honors Program, a global, comparative study abroad program focused on cities, climate change, health, food security, and human rights.
An avid cyclist and lifelong transit rider, he looks forward to bringing rail into the already built trainbox of the iconic Transit Center to sustainably connect it to the entire region and state, completing its vision as the Grand Central Terminal of the West.
Nila Gonzales, Chief of Staff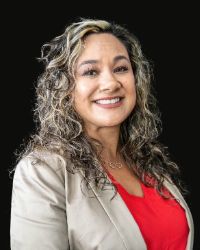 Nila Gonzales is the Chief of Staff for the TJPA, a position she has held since 2010. Additionally, she served as the TJPA Interim Executive Director from September 1, 2020 to January 3, 2022 while the TJPA embarked on a recruitment for a permanent Executive Director. She joined the TJPA in 2005 as the Office Manager and Board Secretary before assuming the Chief of Staff role. Prior to joining the TJPA, Ms. Gonzales worked for the City and County of San Francisco as the Mayor's Director of Scheduling and subsequently for the Department of Children, Youth, and Families. Before that, she had a successful career with the San Francisco Chronicle.
As a San Francisco native, Ms. Gonzales has devoted her career to serving the City she grew up in, raised her now grown children in and is where she still resides today. She advocates for innovation while preserving the innate charm and community vibe of the City. The Transbay Program is a dream project for her as it symbolizes the infinite possibilities of her hometown. Ms. Gonzales is personally involved in the community and currently sits on the Board of Directors for Young Women's Freedom Center.
Lily Madjus Wu, Communications and Legislative Affairs Director
Lily Madjus Wu joined the TJPA in December 2020 after working with the City and County of San Francisco for over 14 years on public outreach, communications and government affairs. During her tenure at the City, she worked at the San Francisco Public Utilities Commission, Mayor's Office of Communications under then Mayor Gavin Newsom and the late Edwin Lee with her last position at the Department of Building Inspection. As the TJPA Communications and Legislative Affairs Director, she leads development and execution of the TJPA's communications and legislative efforts. Ms. Madjus Wu holds a Bachelor of Arts in Government from Sacramento State University and a Master of Public Administration with a focus on Urban and Strategic Management from San Francisco State University.
Operations
Rodney Harris, Chief Security Officer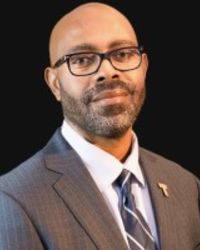 Rodney Harris serves as the Chief Security Officer (CSO). Mr. Harris joined the TJPA in December 2017 as the Deputy CSO and became the CSO in February 2020. He is responsible for the Safety and Security Program for the Transbay Program, including physical security operations and emergency management.
Before joining TJPA, Mr. Harris served as the Security Manager for the Southern California Regional Rail Authority-Metrolink, leading the efforts on the design and development of Metrolink's physical security program with over $15 million in federal and state railroad security grants. Prior to Metrolink, he worked in various leadership roles within the Aviation Security industry on the enforcement of 49 CFR 1542 (Airport Security). Mr. Harris holds a Bachelor of Science from Troy University and is Board Certified in Security Management – Certified Protection Professional (CPP), and Airport Certified Employee-Security (ACE).
Sigfrid Rafanan, Security Operations Manager
Sigfrid Rafanan joined the TJPA in May 2022. He has worked in the security field for more than 6 years, and prior to joining the TJPA, he worked as Assistant Account Manager for Allied Universal Security Services.
As the Security Operations Manager, he assists the Chief Security Officer in developing and implementing security strategies and programs, training security personnel, and management of the daily security operations at the Salesforce Transit Center.
Edmond Sum, Chief Engineer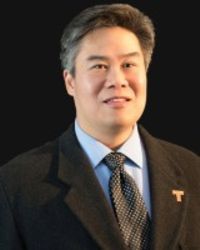 Edmond Sum became the Chief Engineer for the Transit Center on January 1, 2023, prior to this date he served as the Engineering Manager and Contract Compliance Officer when he joined the TJPA in July 2006 from EPC Consultants, Inc., a San Francisco-based program/construction management firm where he practiced as a professional engineer. Mr. Sum has provided technical expertise on major projects for the City and County of San Francisco (DPW's Bureau of Construction Management and SF International Airport), Bay Area Rapid Transit and the San Diego County Water Authority, among others.
Ali Talabe, Physical Security Manager
Ali Talabe joined TJPA in March 2020.  He brings ten years of experience in contract security with a background in IT networks and business administration.
Mr. Talabe began his career working at corporate sites, where he specialized in security and access control systems.  This eventually led to responsible charge positions managing contract security accounts with a focus on operations control centers.
As an active member of ASIS International, Mr. Talabe leverages experience and trends in security worldwide to address the security needs of the unique Salesforce Transit Center.
Robert "R.E." Walsh, Facility Director 
Robert "R.E." Walsh joined the TJPA in August of 2022 after 8 years with the City and County of San Francisco's Human Services Agency where he served as the Director of Facilities and Operations. He has over twelve years of experience overseeing daily operations in both the private and public sector and has worked closely with other City departments, the public, various Committees, the Mayor's Office, and the Board of Supervisors. His diverse background has given him the unique opportunity to work in a variety of fields, including facility and grounds repair and maintenance, real estate, capital planning, public health, labor relations, supply chain management, procurement, fleet services, health and safety, workforce development, and contract management.
Mr. Walsh earned both a bachelor's degree (magna cum laude) in Political Science and a master's degree in Public Administration from Arizona State University. His personal interests include motorsports, cycling, comedy and live music.
Downtown Rail Extension (DTX)
Alfonso Rodriguez, Project Director
Alfonso Rodriguez joined TJPA in July 2021 as the Project Director for DTX following a career spanning three decades in the public and private sectors including executive leadership and project management roles.
Mr. Rodriguez is a California licensed Civil Engineer and Land Surveyor experienced in design and construction of a wide variety of projects including subway transit, highways and bridges, and other municipal infrastructure.  Throughout his career he has worked collaboratively with community groups, stakeholders and partnering agencies as well as elected and appointed officials towards developing and constructing projects in urban settings. As a first-generation engineer, he also engages in outreach and mentorship to underrepresented segments of the engineering community through his professional organization involvement.
As Project Director for DTX, Mr. Rodriguez provides leadership to the project delivery team and through collaboration with partnering agencies and stakeholders, is responsible for delivering Phase 2 of the Transbay Program, the Downtown Rail Extension, that will extend Caltrain commuter rail and California's future high-speed rail service to the Salesforce Transit Center in downtown San Francisco.
Anna Harvey, Deputy Project Director – Engineering
Anna Harvey joined the TJPA in January 2022 with over a decade of experience in both the private and public sectors. She started out as a consultant on the final design and tunnel construction of the San Francisco Municipal Transportation Agency Central Subway project, then progressed to roles in program management and engineering for California High-Speed Rail. Ms. Harvey then spent six years working on a mix of funding, highways, and rail and station planning for the San Francisco County Transportation Authority and the San Francisco Planning Department.
Ms. Harvey is a licensed civil engineer in California and holds a Bachelor of Science in Civil Environmental Engineering from the University of California, Berkeley, and a Masters in Transportation Management from San José State University.
Rebecca "Becky" Mincio, Project Controls Manager
Rebecca "Becky" Mincio joined TJPA in January 2023 with over 20 years of experience in project controls and program management for major infrastructure improvement programs, such as BART and Capitol Corridor Joint Powers Authority's Link21 Program, California High‐Speed Rail Authority, and for Caltrans District 4 projects. She has a valued combination of technical expertise, leadership skills, and knowledge of numerous Bay Area transit and transportation agency standards and methodologies. Becky began her career working in the land development/site civil engineering sector in the New York Metropolitan area. She transitioned to roadway and transit projects, which has become her passion once she completed her move to the San Francisco Bay Area. Most recently, Becky has served as a Deputy Program Controls Manager on the Link21 Program since its inception in 2019 and played an integral role in standing up the comprehensive and scalable program management organization to serve the near and long‐term needs of the program.
Becky holds a Bachelor of Science in Computer and Information Science from Fordham University and was a 4-year member of the Division I women's soccer team on full scholarship.
Finance/Procurement
Andrea Miller, Chief Financial Officer
Andrea Miller was appointed by the TJPA Board of Directors on January 12, 2023 as the Chief Financial Officer and has over 25 years of experience in accounting and finance. Ms. Miller has worked in local government for over 17 years, most recently serving as Controller for East Bay Municipal Utility District. She previously served as Finance Director for the City of Pinole, as the Assistant Finance Director for the City of Pleasanton and as the Budget Administrator for the City of Richmond. Ms. Miller's experience includes overseeing annual audits, developing comprehensive annual financial reports, developing operating and capital budgets, developing policies and procedures, and implementing financial systems.
Ms. Miller holds a Master of Public Administration degree from Golden Gate University, a Bachelor of Arts Degree in Human Development with a minor in business administration from California State University Hayward and is a Certified Public Finance Officer (CPFO). She also serves on the Government Finance Officers Association Committee on Governmental Budgeting and Fiscal Policy and the State Controller's Office of Local Government Advisory Committee on Financial Reporting.
Kalman Hui, Accounting Director
Kalman Hui joined the TJPA in August 2022 as the Accounting Director with 12+ years experience in managing general ledger, payroll, cash management, reporting, and annual audits for entities with revenue of $100 million or more. Mr. Hui is dedicated to increasing productivity through periodic process reviews, implementing accounting best practices, and leveraging modern technology to streamline processes. He comes to the TJPA after 12 years with the San Francisco County Transportation Authority. He has successfully implemented multiple accounting systems including Enterprise Resource Planning (ERP) system, Accounts Payable automation, and other process enhancements.
Mr. Hui holds a Bachelor of Science Degree in Finance and Accounting from San Francisco State University and is Certified Public Accountant (CPA) in California.
Davina Vrazia, Senior Accountant
Davina Vrazia joined the TJPA in February 2021 following a brief staff accountant position at the TJPA as a contractor from April 2020 to December 2020.
In addition to being a class of 2018 Finance graduate from San Francisco State University, Ms. Vrazia brings over two years of accounting experience to TJPA. She has experience in General Ledger accounting, Account Payables, and Account receivables.
Anna Tang, Management Analyst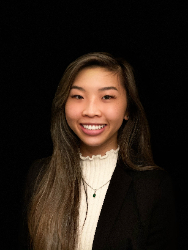 Anna Tang joined the TJPA in October 2020 as a recent graduate from the University of California, Santa Cruz. As a previous Staff Accountant, she is able to utilize her financial experience in her new role as a Management Analyst. With a background in Environmental Studies and Economics, she is excited to expand her knowledge on how sustainable infrastructure relates to environmental change. A San Francisco native, Ms. Tang cherishes the opportunity to work in her hometown amongst so many wonderful individuals. She is grateful and excited for the opportunities to come.
Caroline Rogers, Accountant
Caroline Rogers joined the TJPA in April 2022. Before joining the TJPA, Ms. Rogers served as an accounting clerk for Balfour Beatty Infrastructure, Inc., where she compared vendor and subcontractors' invoices to purchase orders and contracts to verify quantities, prices, and payment terms for Caltrain's Peninsula Corridor Electrification Project. Prior to that, she served as an office manager for Shimmick Construction, where she managed, processed, and coordinated accounts payable for the Transbay Program's Bus Ramp project.
Ms. Rogers holds an associate degree in accounting from Chabot College.
Administration Support
Jason Blick, IT Director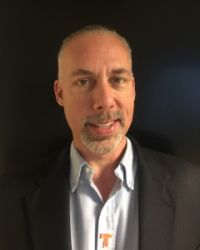 Jason Blick joined the TJPA as IT Director in February 2019 and brings more than 21 years of Information Technology experience. He came from NetXperts where he was the VP of Engineering focused on day to day operations, overarching project management, vendor relationships and leading their team of engineers. Prior to that Mr. Blick served as a Consulting Systems Engineer for World Wide Technology (WWT) primarily supporting the Kaiser Permanente account from a pre sales perspective positioning, designing and selling network solutions. He holds several Information Technology (IT) certifications including Cisco Certified Network Associate in Wireless (CCNA Wireless), Cisco Certified Network Associate in Routing and Switching (CCNA Routing & Switching), Cisco Certified Design Associate (CCDA), Cisco Meraki Network Associate (CMNA), and Microsoft Certified Systems Engineer (MCSE).
Carsie Bonner, Assistant Board Secretary/Communications Manager
Carsie Bonner joined the TJPA in August 2022. She brings more than 6 years of experience in document control, records management and project administration including administrative support to ensure efficient office operations. Ms. Bonner has experience following a consultant role at the City and County of San Francisco Public Utilities Commission facilitating development of processes for compliance with contracting, bid labor requirements, development of procedures for budgeting, accounting and receiving loan funds. Under the guidance of the Chief of Staff, she provides support to the Transbay Program with emphasis on tasks for the Board Secretary and the Communications and Legislative Affairs Director. Ms. Bonner holds a Bachelor of Science in Political Science from San Francisco State University.
Herschell Larrick, Office Administrator
Herschell Larrick joined the TJPA in July 2021 as the Office Administrator following a role at the City and County of San Francisco's Commission and Department on the Status of Women, where he simultaneously served as the Executive Management Assistant, Office Manager and Commission Secretary since 2015. As the Office Administrator, he provides administrative support, office management and coordination, and Executive support for the Transbay Program. Mr. Larrick holds a Bachelor of Arts in Psychology from Creighton University.
TJPA Officers
The Officers of the TJPA are the Chair, Vice Chair, Executive Director, Secretary and Chief Financial Officer.
---
In compliance with California Assembly Bill 2040, you may visit http://publicpay.ca.gov/ for compensation information.
Click here to view the TJPA Pay Schedule.